When bad data happens to good doctors (and what great hospitals can do about it)
Love it, hate it, have an app for it: We live in an age of consumer discretion. In addition to credit and cash, businesses accrue another form of currency: rich data. With accurate, plentiful, consistent information, businesses can buy the trust of their consumers and bank on loyal clients and repeat visits. No wonder it's rare for anyone to try a new service, however highly recommended, without doing research on their own beforehand. This trend is evident nowhere as much as in the healthcare industry. Doctors and hospitals are currently tied for most frequently reviewed business1 with restaurants — which garner reviews constantly. The scrutiny is nothing new in our era of social proof and online word-of-mouth referrals. Choosing a doctor, after all, has more consequences than finding a new burger joint or dry-cleaner. To illustrate the trend of patient research online further, here are some stats to consider:
60.8% of patients say it's important to them to be able to book appointments and pay medical bills online.2
Less than 1% of patients begin their search for medical information at a doctor or practice's individual website.3
It's estimated that by 2019, ⅔ of US health systems will offer self-scheduling tools for patients to book,4 change, or cancel their appointments online.
90% of patients online say their spending decisions are influenced by reviews.5
61% of patients read reviews of a doctor before booking an appointment. That number is up by 68% from 2013.6
When patients search for or come across your brand, what will they see? According to the Office of the Inspector General, 60% of the data syndicated from the NPPES (National Plan and Provider Enumeration System) is incorrect.7 This, most of the time, is the data that ends up in your business's online listings. What does this mean for you?
Essentially, that any  given doctor will have at least one piece of incorrect data linked to their listings online.
Large medical businesses run a far greater risk than smaller practices of running into bad data. Why? The more NPI numbers associated with your brand, the more points of info you're responsible for — anything from a phone number to a doctor's alma mater. These errors aren't confined to some hidden backwater server either; they're copied and pasted on a regular basis to patient-facing healthcare directories browsed by more than 30,000,000 potential new patients every day.
How does this data get so tangled?
How doctor info flows to patients' browsers isn't always clear-cut. Most medical records originate from sites like the NPPES and the Federation of State Medical Boards, which compile information from every registered doctor in the country. Data aggregation sites then copy this data, which is public record, and publish it across dozens of other listing sites and directories. These aggregators get their revenue from sponsor ads, so they aren't terribly concerned with the accuracy of the data they're publishing — only that their searchers get results: whether those results are correct or not.
Common examples of information changes aggregators frequently miss include:
A doctor switches insurances carriers
A practice moves
A phone number is changed or taken out of commission
A doctor is added to a hospital/clinic franchise's list of full-time employees
What does this mean for today's hospital?  
The average hospital employs 134 full-time doctors.8 That's 134 unique NPI numbers generating data that gets warped and copied across the web. And that means tens of thousands of incongruous pieces of data misrepresenting your brand. 
Cutting through the tangled web
Many hospitals struggle with the "brute-force" approach: that is, combing through every major healthcare and business directory (Wellness, Healthgrades, Vitals, Yelp, DocSpot, and YP, to name just a few) and manually adding, fixing, and updating the listings for each doctor. Hospitals that go this route generally end up employing someone full-time as a listings manager. Why full-time? Controlling these listings is like an exhausting game of Whack-a-Mole. As data is rectified on one site, another automatically updates itself — replacing  hand-entered records with whatever data the site deems most relevant, no matter how inaccurate. So if the person frantically correcting this data quits or takes a vacation, a whole lot of bad data is going to be back in patient searches quickly. That's a lot of money and effort for a very unstable solution.
A common fallback solution is to partner with a data aggregator. With an aggregator partnership, you can publish your doctors' correct information on the aggregator's host site, then hope that they sell this data to patient-facing websites you want to appear on — then hope that those healthcare sites are interested in buying the data from your aggregator. This solution is not unlike buying a plane ticket to a mystery destination: Your suitcase is full of beach gear; you hope you'll land in the Galápagos or Maui. But odds are you'll wind up in Russia — or even the North Pole. When partnering with an aggregator, you might hope to have info posted on the front page of Google; in reality, you'll likely wind up on a third-party directory that scarcely sees the light of day. How much is this costing your business? A lot of risk, a lot of money, a lot of hoping. What do you get in return? A gamble with  no guarantees.  
"Horizontal players" are another type of site some businesses partner with. These are groups that promote business visibility across the web. While they're good for quickly getting your brand on certain directories, these groups wield a shotgun approach to business marketing: They'll use the same strategy to promote your hospital they use to promote restaurants, plumbers, and antique stores. The burden is on you to teach them how healthcare marketing works and, again, hope they get it right.
For fast-growing hospitals looking for accurate online listings, consistent information across the web, doctors at the top of local searches, and integrated software systems, employing a custom solution for healthcare is the way to go.
While less common than other quick-fix marketing solutions, custom healthcare marketing offers your enterprise the chance to spend what it can afford to appear on the sites most relevant to your desired patient influx. Custom marketing entails working with specialists who are familiar with the unique aches and pains of data in the healthcare world. Here's a quick tally of qualities you should look for in a custom marketing partner:
Familiarity with insurance databases and healthcare systems like the NPPES and Federation of State Medical Boards
Flexibility in where your business's data is syndicated to (avoiding "clumping" listings in with generic searches for restaurants, plumbers, etc.)
Scaled rates for your company's needs
Partnerships with healthcare directories
Concierge service to ensure that once your listings look the way you want them to, they stay that way
Many hospitals and health systems have worked with Doctor.com on a solution that fits their budget and business model. To learn more about how online brands have benefited from working with us, or for more tips on managing and improving your online listings, talk with one of our healthcare data experts today.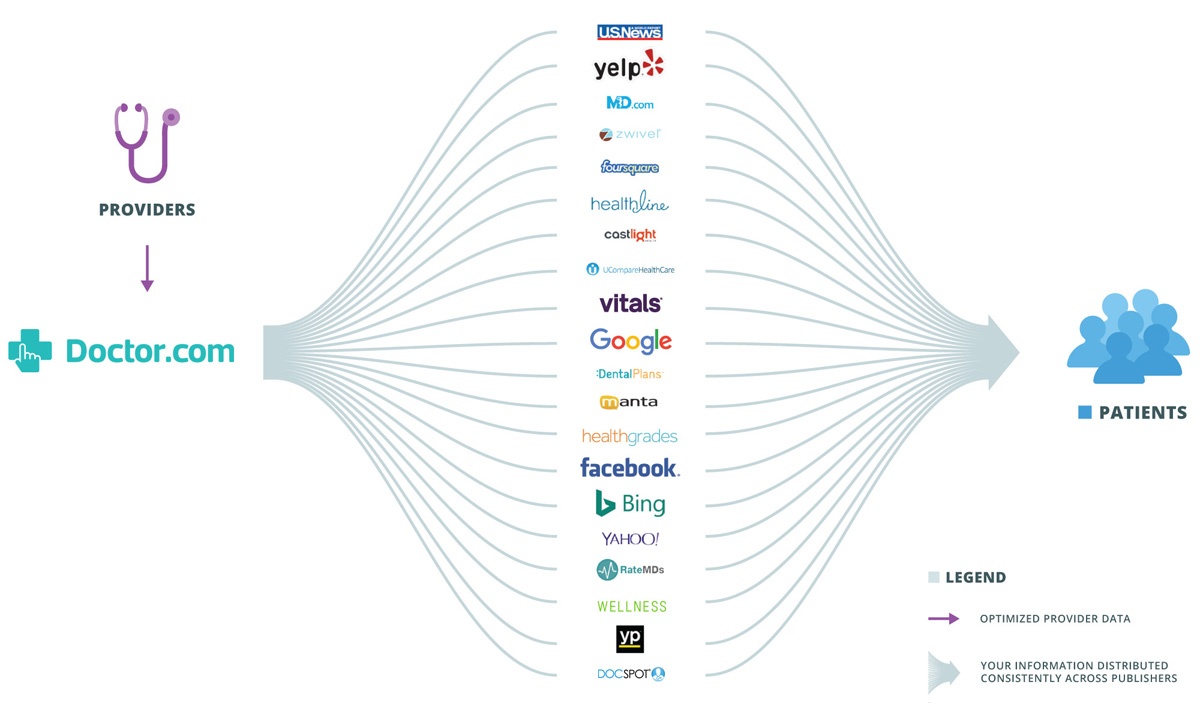 Click here to book a free, no-obligation consultation of your online presence