Turbo-charge your existing website with powerful, interactive marketing features.
Now you can add powerful new features to your existing website with Doctor.com's exclusive SiteEnhance™ technology. In less than five minutes (and using just a single line of code), SiteEnhance™ unlocks your website's full potential with online appointment scheduling, integrated patient reviews, call tracking/recording plus mobile optimization!
You'll be able to publish an endless supply of verified patient reviews directly onto your website using the Doctor.com ReviewHub™ in-office review collection device. Search marketing experts agree that fresh reviews help enhance your website's search profile. And new patients always look for fresh reviews before they book an appointment.
Add Important Interactive Features to Your Website
With SiteEnhance™, your website is now a dynamic, highly interactive web marketing machine. Your patients can take immediate action with online appointment scheduling. SiteEnhance™ also includes a unique tracking number so you can track calls for better RPI visibility. And, with the optional call recording feature, you get a powerful tool for staff training to enforce phone etiquette.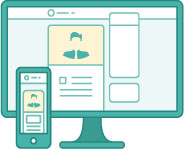 Now with Mobile SiteEnhance™
More than 60% of patients look for your website on a mobile device (like Android®1 or iPhone®2). If your website doesn't have a mobile version (fast-loading graphics, easy-to-read content, finger-friendly buttons), you are missing business!
In fact, Google recently announced that they would diminish the search ranking of any website that doesn't offer a mobile-friendly version.
Doctor.com's Mobile SiteEnhance™ software automatically creates a fast, mobile version of your website, so your information is clear and readable to patients with smartphones.
1Android® is a registered trademark of Google, Inc. 2iPhone® is a registered trademark of Apple, Inc.
| | |
| --- | --- |
| Features | Benefits |
| Mobile Ready | More than 50% of online searches taking place on mobile phones, yet less than 2% of websites mobile optimized. Fix it now with SiteEnhance™. |
| Search Engine Priority | Google's search-algorithm gives priority to mobile-ready websites. With 80 million online patients starting at a search engine, make sure your website is the one they find! |
| Hassle-free | Unlock the full potential of your existing website with a single line of source code and minimal design work. |
| Integrated Patient Reviews | Provide relevant and trusted reviews for potential patients, displayed right on your website. |
| Encourage New Patients | Make it easy for new patients to take action with simple online scheduling or calling. |
| Trackable Results | Monitor your calls and online appointment scheduling - access to information gives you control. |